West End Osteopathic Clinic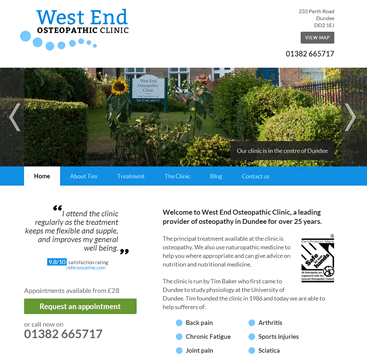 Key Features
Flat design
Mobile friendly responsive design
Integral blog
Photography
SEO audit
IE7+ compatible
When Dundee's leading osteopathic clinic decided they needed an image refresh – including a new website design – they selected Carnoustie Creative.  We presented a number of design options for their new logo, graphic identity and website and they opted for a WordPress site using flat design.
Flat Design
Flat design is a  contemporary design style that favours a move away from design elements like  shadows, bevels and shading that suggest three dimensions and instead has it's focus on typography and clean, simple lines.  Apart from creating a bold, clear modern look, an additional benefit of flat design is it's ability to retain clarity when scaled up or down.
This wasn't the first WordPress site using flat design we'd built, and we applied many of the lessons learned from earlier sites to create a design that would look great in desktop browsers but would also work well on mobile devices.
Search Engine Optimisation
Although the clinic has been established for over 25 years, and had a website for last 3 they were not ranking well in the major search engines.  We helped them understand why that was the case and provided a strategy for improving their position in search engine results, making use of both new (using WordPress blogging features) and existing content.
Photography
The clinic didn't have any existing photographs of the exterior or interior that they were happy with, so we spent some time capturing images that would complement the look of the new site and would help to communicate the key concepts of trust and professionalism that they wanted to convey.