Royal Tay Yacht Club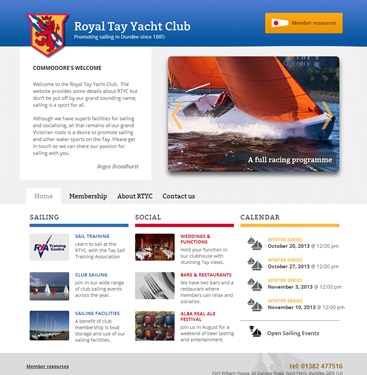 Key Features
New clean look
Dual focus
Member dashboard
Custom WordPress theme
Fully responsive web design
Business cards
Migration of Joomla users
Forum (bbPress) integration
The Royal Tay Yacht Club has a long and illustrious history.  They had an existing website based on Joomla but it was running using a free theme and the RTYC committee felt it lacked something both in terms of structure & presentation. We were engaged to create a new look – something clean & friendly that would be part of a drive to recruit new members.  Additionally, the website is one of the primary communication channels the club uses to communicate with it's members.
Phase I – Club website & cards
The first phase dealt with the "public face" of the club website and was part of a campaign to raise the profile of the RTYC and attract new members. This was delivered to a tight schedule that was dictated by a number of pre-arranged summer events the RTYC were attending.  Existing content was restructured, with gaps filled by RTYC committee members and the content was used in a colourful, modern design intended to dispel any notions of the club being unapproachable by novices due to it's Royal designation.
In addition to the website, we created a range of business cards for distribution to potential members and a pop up stand for use at exhibitions.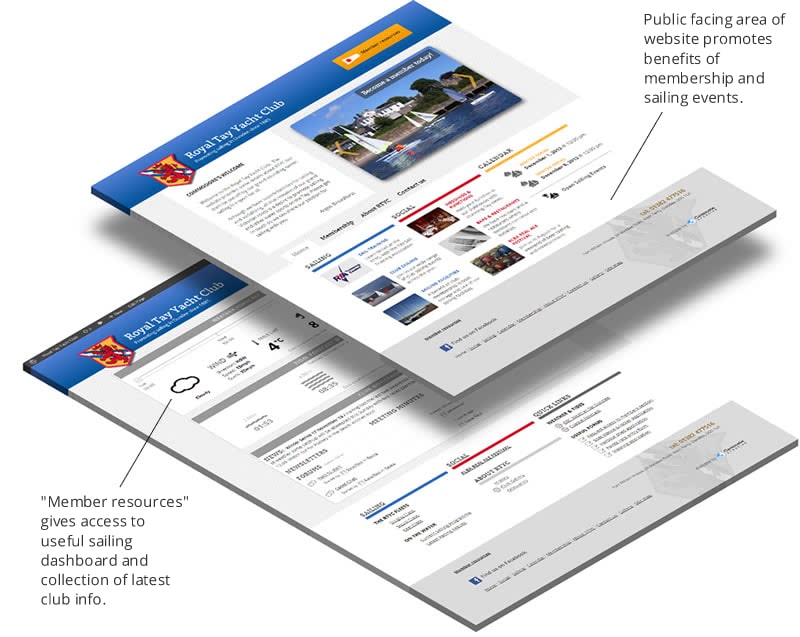 Phase II – Members website
The focus of phase II was on the members section of the site. The existing user data was migrated from the legacy Joomla site into the new website and an alternative "member resources" page was added.  The concept was to give members their own targeted way in to the site without having to wade through promotional information that was for another audience.  A custom dashboard was created that gives at a glance information about sailing conditions at the RTYC base on the Tay.  Other phase II features include:
Sailing "dashboard" comprised of custom widgets for weather and tides.
Members area with some restricted access areas.
Forums – bbPress introduced to give private members forums.
Online forms – common club forms available to complete online.
Delegated authorship – club officials can be granted edit access to a small subset of the site.
The whole website was built using responsive web design techniques, so it looks great on desktops, laptops, tablets and mobile phones.