Morven House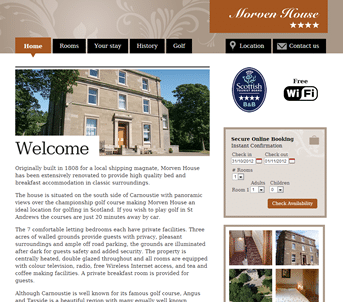 Key Features
Logo design
Integration of eviivo online booking
"Nearby" module
Gallery module
News module
Morven House is a striking building that has been extensively renovated and provides bed and breakfast accommodation in Carnoustie. We re-developed their site, creating a new elegant look – including a logo – improving the layout and expanding the functionality.
After talking to the owners to find out what kind of image they wanted to portray and hearing about their plans and ideas for the business, we created 5 alternative mock-up homepage designs – each with a different look and feel – so they could decide which suited them best.  The existing content from the old site was migrated over and content was added, in line with a refined site structure and the new design.
The site is easy for the owners to update, with separate modules for Nearby attractions, News and Gallery images. The existing eviivo online booking function was included in the new site, but restyled to match the feel of the updated design.
Simple modules for specific content
Each module is like a mini-database; Entries can be added and removed and the site updates automatically, without any need to know about HTML or other technology and without having to update any pages.  The process is as easy as editing an email or a word processor document, and there are specific fields and even a Google map so the editor can visually locate the attraction.
This means that going forward, sections like the Gallery or the list of Nearby Attractions can be updated with new information to keep the site fresh and improve the chances of people finding them using a search engine.
With simple, cost-effective tools like we gave Morven House, we can build attractive and functional websites for bed & breakfast providers, small hotels or inns.