MAJR Properties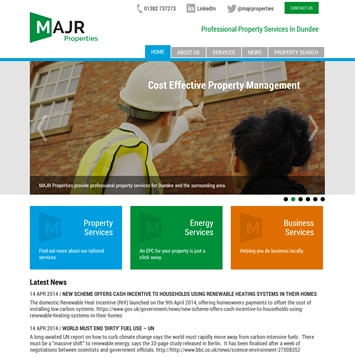 Key Features
New logo & corporate identity
Fully responsive website
Property search
News blog
Business cards
Letterheads
Corporate Identity
MAJR Properties is a growing property, energy and business services company serving the Tayside area. They wanted a clean, modern look that was not too tied to a single business sector so they could expand their services portfolio over time.  Using our expertise in property website design, we
We developed a new logo and corporate identity, then applied this to their website, business cards and stationery.
Property Website Design
Part of the project brief was to include the facility to list property available for lease.  As part of the website we included a simple database of properties that MAJR staff could administer, with the flexibility to include both commercial and residential property, either for sale or rent.  The property section displays all properties on a map allowing visitors to get a quick overview of what is available in their area.
The site was built with a responsive design, so it would look great to visitors viewing on a desktop, tablet or mobile phone.