Celios custom software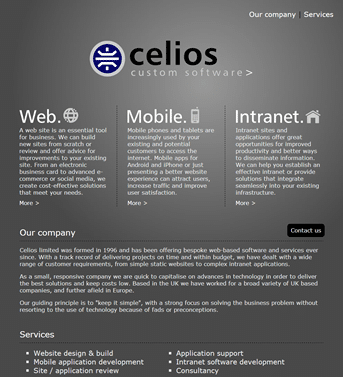 Key Features
Responsive Design
HTML 5
Online forms
Matching stationery
When our parent company wanted a website we were the obvious choice!  We developed a simple site with a responsive design and bold graphics.
The updated website design was carried through to business cards and stationery.
Celios already had an existing logo and colour scheme that was expensive to reproduce on paper and not ideally suited to display on a screen. We took the existing logo, simplified it and adapted the colours for easier reproduction on different media.  The resulting design not only looked better, but saved money on printing costs and resulted in higher fidelity
reproductions.