Logo design, branding & visual identity
You may think that having a professional image and a consistent "brand" is the preserve of large companies who employ advertising agencies for thousands of pounds per project, but we can help you raise your game to build confidence and project exactly the right image.
Our speciality is creating clean, simple and memorable designs that are easy to print and scale effectively so they look good on everything from business cards to posters.  Tying your website and printed matter together with a visual identity is a great way to build trust and to punch above your weight so you can meet bigger competitors on level terms.
Logo design
Perhaps you are a new business and don't yet have a logo, or maybe you have one that you don't like, or no longer fits the image you want to portray – we can provide you with professionally designed logos suitable for your website, business cards or vehicles.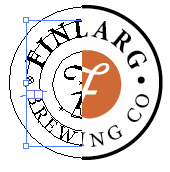 We'll listen to your preferences and requirements – bold or understated, trendy or classic, businesslike or fun – and design a number of logo candidates. Through a process of creative iteration we can refine the ideas you identify and arrive at a final design you love.
We take account of the uses that you're likely to put your logo to and any restrictions that may impose on the design – if it needs to have solid colours only, or avoid small details because it will be embroidered, etc.
Get in touch and we'll start the process of designing your new logo!
Stationery & printed matter
We have built partnerships with a number of printers who can print high quality business stationery, flyers, brochures, stickers, conference stands, etc for very reasonable prices.  We offer advice on the best options for paper quality, creative finishes, etc. but you don't need to use us for printing.  We will provide no obligation quotes along with print-ready artwork so you can take the designs to the printer of your choice.
Pricing depends on a number of variables (like the number of colours, the paper or card, the finish, etc) but as a very rough guideline we can supply 1000 letterheads for approx £80+VAT (inc. artwork preparation and printing), and 250 business cards for £45+VAT (again including preparation of all artwork & printing).

Get in touch
Do you have a project in mind? Would you like a free quote or just a reality check? Complete the form or call us on 01241 460 000