Burnside Brewery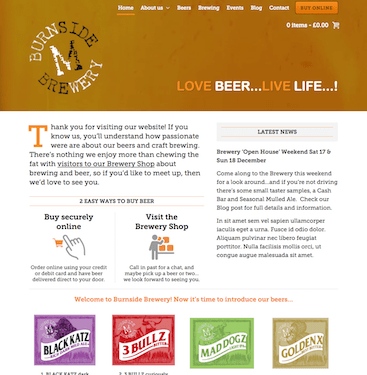 Key Features
Fully responsive website
Ecommerce
Pick and mix products
Video background
Static image fallback
Built on WordPress
Burnside Brewery are a small Scottish craft brewery based in Laurencekirk, Aberdeenshire. We created a promotional website for them in 2014, and after a few years of growth they wanted to take the step of selling online.
The homepage features an inviting "pouring beer" video background, to set the scene and pique the visitor's interest. The site retains the basic promotional items about the owners, their process and information about their beers. In the ecommerce section, a key requirement was control over delivery areas – the initial rollout was to be deliveries to the local area only, with delivery made by the brewery themselves as they delivered to other larger customers. When the site launched, delivery was limited to a specified range of postcodes. After a successful trial period, we opened up the delivery area to the whole UK via courier, but retaining the cheaper local delivery (or brewery collection) options.
Pick and Mix
Although Burnside wanted a traditional shopping cart, so customers could purchase multiple different kinds of beer, they only ship mini kegs or a case (12 bottles) of beer. We added additional functionality so customers could order a "mixed case", this allows them to experiment a bit and try up to twelve different beers by ordering only a single case – essential for new customers who might not be familiar with the range of beers brewed by Burnside. The website ensures that only full cases with 12 bottles are ordered and also keeps track of stock levels.
The brewery already had an existing credit card merchant they used for physical sales in their brewery shop and after some enquiries we were able to use the same provider saving them time, money and hassle. We support most credit card merchants, including the most popular such as PayPal, WorldPay, SagePay, Stripe and Amazon Pay.